Polyurea Coatings Applications
Specialized, high-pressure industrial spray equipment
The core range of Ultimate Linings coatings is a highly durable, sprayable two-component polyurethane protective coating with excellent adhesion, chemical resistance, abrasion resistance, and mechanical resistance properties.
Ultimate Linings polyurethane / polyurea materials are applied with specialized high-pressure industrial equipment. The sprayed material hardens in seconds – the fast curing time allows Ultimate Linings coatings to be applied in several coats at once and in any thickness without dripping – the maximum coating thickness is not technologically limited.
Ultimate Linings materials do not contain organic solvents and have a 100% solids content. Our polyurethane/polyurea coatings are entirely environmentally safe to apply.
The installation of polyurea coatings products requires special equipment that can provide the following:
• 1:1 by volume
• Material temperature 60-80° C
• Mixing of components in the nozzle of the gun in a high-pressure environment (140-170 Bar)
Graco E-10HP
The E-10HP is an electrically operated, easily portable, two-component reactor suitable for small applications—ideal for small applications of polyurethane, polyurea, and polyaspartic topcoat materials. The device has two tanks with a total capacity of about 60L— 220V (household) for the main power for the E-10.
Graco Reactor 3 E-XP2
An industrial, electrically operated, two-component high-pressure reactor designed for large-scale application of polyurethane/polyurea protective coatings, where an extremely high working pressure (up to 240 bar) is required.
Graco Reactor 2 H-XP3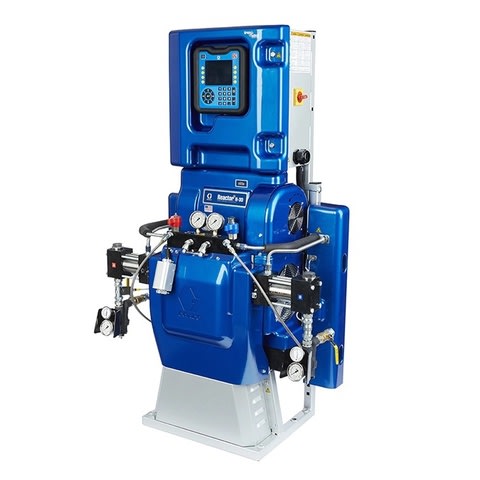 The H-XP3 is an industrial, hydraulic, two-component high-pressure reactor for large-scale polyurethane and polyurea applications. With this equipment, the operator has complete control over the material temperature, operating pressure, and other essential parameters such as material consumption. The advantage of the H-XP2 is its high reliability and low maintenance costs.
Ultimate Linings offers an assortment of quality systems and carries a full line of equipment and parts from leading manufacturing companies.
Our experienced technical team offers factory-authorized service and repairs for all brands we sell. Our commitment to our customers is to help them improve efficiencies by properly using our products. We strive to attain that goal by offering excellence in customer service, 24/7 technical support, and ongoing maintenance and repair services. Our team of skilled engineers is eager to liaise with you to analyze the needs specific to your organization. Whether it is solving a challenging manufacturing problem or improving productivity, safety, or quality, we've got the experience and appropriate resources to find the best solution for you!